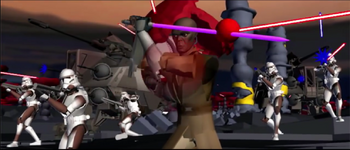 The 91st Reconnaissance Corps was a division of recon troopers in the Grand Army of the Republic during the Clone Wars. The 91st Reconnaissance Corps was comprised of divisions of clone troopers, and ARF troopers, such as Lightning Squadron. They were led by Jedi General Mace Windu and fought in the Battle of Ryloth and Battle of Anaxes. They later fought under Master Adi Gallia.
Equipment
Members of the 91st Reconnaissance Corps could be identified by the red/brown markings on their armor, particularly by the unique emblems on their chest armor and helmets. Most members carried standard DC-15S blasters.
Notable Members
Appearances
Ad blocker interference detected!
Wikia is a free-to-use site that makes money from advertising. We have a modified experience for viewers using ad blockers

Wikia is not accessible if you've made further modifications. Remove the custom ad blocker rule(s) and the page will load as expected.