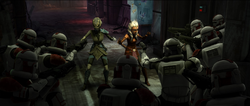 Ahsoka Framed is a four-part arc that composes the finale episodes of season five. After the Jedi Temple Hangar bombing, Ahsoka is framed for the attack and is determined to prove her innocence amidst the deceit. On the run from her former Master Anakin Skywalker, Ahsoka finds an unlikely alliance with the former Separatist Asajj Ventress and together they embark on a mission to prove her innocence.
Episodes
Ad blocker interference detected!
Wikia is a free-to-use site that makes money from advertising. We have a modified experience for viewers using ad blockers

Wikia is not accessible if you've made further modifications. Remove the custom ad blocker rule(s) and the page will load as expected.