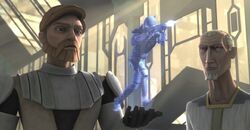 "However, a Separatist saboteur recently attacked one of our Republic cruisers. A Mandalorian saboteur."
―Obi-Wan Kenobi, to Duchess Satine Kryze
In 22 BBY, the Confederacy of Independent Systems dispatched a Death Watch saboteur to attack a Republic cruiser. As the agent attempted to sabotage the cruiser, he was spotted and a battle occurred between himself and Republic troops, resulting in his capture. However, he committed suicide rather than submit to questioning.
Outcome
Death Watch saboteur killed himself
Casualties
Galactic Republic
Unknown
Death Watch
Unidentified Saboteur
Appearances
Ad blocker interference detected!
Wikia is a free-to-use site that makes money from advertising. We have a modified experience for viewers using ad blockers

Wikia is not accessible if you've made further modifications. Remove the custom ad blocker rule(s) and the page will load as expected.