This page is about the episode arc. You may be looking for the Commando unit known as the "Bad Batch".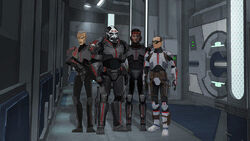 Bad Batch is a four-part story arc that would have served as the opening to Season 7. The arc focuses on the return of Echo, previously presumed dead in Counterattack, and his rescue by Captain Rex with a highly-unorthodox group of Clone Commandos, called the "Bad Batch." It was first revealed by writer Brent Friedman when he answered fan questions on Twitter regarding the unproduced episodes of The Clone Wars.
The story reels for these episodes, complete with voice performances, were screened at Star Wars: Celebration Anaheim on April 17, 2015. They were uploaded onto StarWars.com on April 29, 2015.
Episodes
Ad blocker interference detected!
Wikia is a free-to-use site that makes money from advertising. We have a modified experience for viewers using ad blockers

Wikia is not accessible if you've made further modifications. Remove the custom ad blocker rule(s) and the page will load as expected.