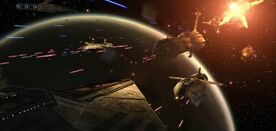 The Battle of Sullust was a battle in 21 BBY where the Republic and Separatist fleets clashed. The Republic was led by Jedi Generals Anakin Skywalker and Obi-Wan Kenobi while the Dark assassin Asajj Ventress led the Separatists.
Participants
Outcome
Casualties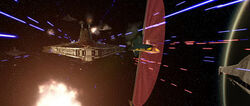 Grand Army of the Republic
Moderate
Confederacy of Independent Systems
Heavy
Battle
Count Dooku's Sith assassin Asajj Ventress had led a Separatist fleet to take the planet Sullust. The Jedi Council had dispatched Anakin Skywalker and Obi-Wan Kenobi to lead the fleet. Ventress commanded a Tri-Fighter squad. Ventress used her Geonosian fanblade fighter and destroyed the bridge of the Resolute. Some officers, like Admiral Yularen, survived. Ventress then led her Tri-Fighters against the Jedi fighters. Ventress damaged Kenobi's ship as Anakin crashed the Tri-Fighters into each other. Obi-Wan's ship crashed in the command ship of the CIS and Anakin shot Ventress's ship causing them to crash in the same ship as well. Kenobi and Anakin took on Ventress in a duel. Count Dooku received orders from Darth Sidious to eliminate Ventress and have the CIS flee the system. Obi-Wan and Anakin got off the ship whlie Ventress who was injured barely escaped before the CIS ship was destroyed.
Appearances
Ad blocker interference detected!
Wikia is a free-to-use site that makes money from advertising. We have a modified experience for viewers using ad blockers

Wikia is not accessible if you've made further modifications. Remove the custom ad blocker rule(s) and the page will load as expected.