More to add, have you?

It is requested that this article/section of an article be expanded. Once the article contains more information, this template will be removed.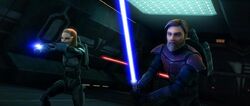 "Remember, the first and only reality of the Sith: There can only be two, and you are no longer my apprentice. You have been replaced!'"
―Darth Sidious, to Maul
The Battle of Sundari took place in 20 BBY between the members of the Shadow Collective and the Night Owls, and other Death Watch renegades, led by Bo-Katan Kryze with Obi-Wan Kenobi. Darth Maul's involvement in the battle also drew the attention of Sith Lord Darth Sidious.
Participants
Outcome
Casualties
Shadow Collective
Some Collective soldiers
Savage Opress
Nite Owls
Several Nite Owls
Satine Kryze
Sith Lords
None
Appearances
Ad blocker interference detected!
Wikia is a free-to-use site that makes money from advertising. We have a modified experience for viewers using ad blockers

Wikia is not accessible if you've made further modifications. Remove the custom ad blocker rule(s) and the page will load as expected.