Star Wars: The Clone Wars The Complete Season 1
is a four-disc DVD boxset with all 22 episodes of Star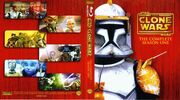 Wars: The Clone Wars Season 1. It was released on November 3, 2009 in the US and on November 16, 2009 in the UK. It is the only season to have director's cuts and special featurettes.
The set includes:
All 22 episodes from Season 1
7 Director's Cuts: Rising Malevolence , Shadow of Malevolence , Rookies , Lair of Grievous , Storm Over Ryloth , Innocents of Ryloth , Liberty on Ryloth .
22 Featurettes for each episode
An exclusive 68-page production journal with original sketches for each episode and artist notes.
The "Jedi Temple Archives" is an exlusive for the Blu-Ray version.
Each DVD contains a special hidden easter egg:
Disc One- The Clone Wars Season 2 Trailer
Disc Two- The Clone Wars Republic Heroes Trailer
Disc Three- Behind-the-scenes video of animation, models, and sketches.
Disc Four- Ad for Starwars.com, Star Wars Shops, and Stars Wars Blog.
Ad blocker interference detected!
Wikia is a free-to-use site that makes money from advertising. We have a modified experience for viewers using ad blockers

Wikia is not accessible if you've made further modifications. Remove the custom ad blocker rule(s) and the page will load as expected.