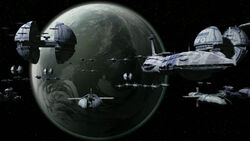 The Confederate Navy was the naval force of the Confederacy of Independent Systems. The CIS utilized a large array of cruisers, battleships, starfighters, transports, etc. many of which were entirely controlled by artificial intelligences essentially making them space battle droids.
Classes
Starfighters
Carriers
Destroyers
Frigates
Flagships
Ad blocker interference detected!
Wikia is a free-to-use site that makes money from advertising. We have a modified experience for viewers using ad blockers

Wikia is not accessible if you've made further modifications. Remove the custom ad blocker rule(s) and the page will load as expected.