Crab Cannon

Manufacturer

Quarren Isolation League

Type

Aquatic vessel/walker

Armament

4 Laser cannons
1 Beam cannon

Affiliation
The Crab Cannon was a Separatist heavy artillery weapon.
History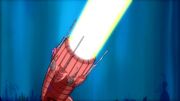 During the First Battle of Mon Calamari, it came in as back up, using its beam cannon to take out many of the Republic's star destroyers. Although it defeated many of the Republic forces, Kit Fisto, teaming up with the Keelkana Mon Cal lancers, destroyed its legs and sent it off a cliff into a deep sea trench, where it was destroyed.
Appearances
Ad blocker interference detected!
Wikia is a free-to-use site that makes money from advertising. We have a modified experience for viewers using ad blockers

Wikia is not accessible if you've made further modifications. Remove the custom ad blocker rule(s) and the page will load as expected.