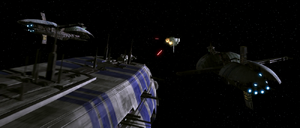 The destruction of the Felucia medical center occurred around 21 BBY when the Separatist fleet attacked a clone medical center over Felucia. After its destruction, Jedi Generals Obi-Wan Kenobi and Anakin Skywalker with padawan Ahsoka Tano were sent to investigate its disappearance, only to have their shuttle forced down by vulture droids.
Participants
Outcome
Casualties
Grand Army of the Republic
Very heavy
Appearances
Ad blocker interference detected!
Wikia is a free-to-use site that makes money from advertising. We have a modified experience for viewers using ad blockers

Wikia is not accessible if you've made further modifications. Remove the custom ad blocker rule(s) and the page will load as expected.