"What are our losses, Captain?"
"We got hit pretty hard. I think only Kenobi's forces made it through the flak to the landing zone."
―Ki-Adi-Mundi and Commander Jet, during the Second Battle of Geonosis
A unit of Special Operations Clone Troopers served under Jedi General Ki-Adi-Mundi and Commander Jet during the Second Battle of Geonosis in 22 BBY.
History
After this unit's Gunships were shot down during the battle, Mundi and Jet led the survivors towards the Republic staging area on foot. Jet requested reinforcements from the fleet, but Admiral Wullf Yularen informed him that none could be provided without putting the other Republic forces at a disadvantage. In an attempt to reach the landing zone more quickly, Mundi took a passage through a series of Geonosian caves. Though the unit was soon ambushed by Geonosian warriors, they managed to overpower the Geonosians' defense by use of their Flamethrowers. Having made it through the caves, the unit regrouped with Anakin Skywalker and his men and reinforced the Republic staging area.
Equipment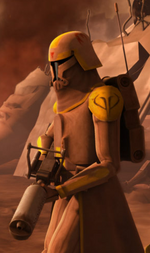 Jet's unit was outfitted with experimental comm gear as a counter to the sonic blasters the Geonosian warriors wielded. They also wore distinct orange and yellow-marked Phase I Clone Trooper Armor as camouflage to the landscape of Geonosis. In addition to these Special Ops Troopers, the unit also contained several Clone Flame Troopers equipped with flamethrowers. The unit had a special horn symbol which adorned their shoulder plates.
Appearances