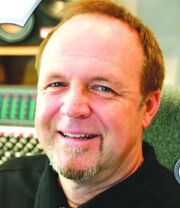 Kevin Kiner
is the composer for
Star Wars: The Clone Wars
television series and composed the soundtrack for the
Star Wars: The Clone Wars film
. Each song runs about two minutes with some of the more climatic scenes for four minutes.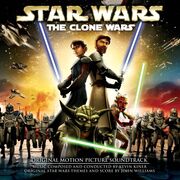 Songs
Star Wars Main Title & a Galaxy Divided
Admiral Yularen
Battle of Christophis
Meet Ahsoka
Obi-Wan to the Rescue
Sneaking Under the Shield
Jabba's Palace
Anakin vs. Dooku
Landing on Teth
Destroying the Shield
B'ommar Monastery
General Loathsom/Battle Stratagy
The Shield
Battle of Teth
Jedi Don't run!
Obi-Wan's Negotiation
The Jedi Council
General Loathsom/Ahsoka
Jabba's Chamber Dance
Ziro Surrounded
Scaling the Cliff
Ziro's Nightclub Band
Seedy City Swing
Escape From the Monastery
Infiltrating Ziro's Liar
Courtyard Fight
Dunes of Tatooine
Rough Landing
Padme Imprisoned
Dooku Speaks with Jabba
Fight to the end
End Credits
Ad blocker interference detected!
Wikia is a free-to-use site that makes money from advertising. We have a modified experience for viewers using ad blockers

Wikia is not accessible if you've made further modifications. Remove the custom ad blocker rule(s) and the page will load as expected.