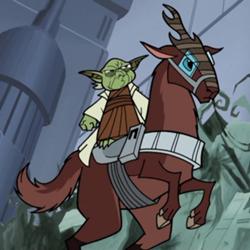 Kybucks
were native to the world of
Kashyyyk
.
Jedi Master
Yoda
owned a
kybuck
that brought him into the battle. Kybucks could run at up to 90 kilometers per hour. Males had short horns sitting atop their head. There were many different breeds of kybucks, often identifiable by relative size and form of their horns.
Appearances
Ad blocker interference detected!
Wikia is a free-to-use site that makes money from advertising. We have a modified experience for viewers using ad blockers

Wikia is not accessible if you've made further modifications. Remove the custom ad blocker rule(s) and the page will load as expected.