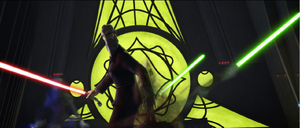 The Mission to Serenno took place around 21 BBY, shortly after the Battle of Sullust, where Dark Side Acolyte, Asajj Ventress, was betrayed by her master, Count Dooku. After she was taken in by her kin, the Nightsisters, Ventress, with fellow sisters Karis and Naa'leth, traveled to Serenno to assassinate Dooku for his treachery. Ventress shoots Dooku with a dart that distorts his vision, giving the Nightsisters a chance to defeat the Sith Lord. However, Dooku is able to effectively fend off his assailants and uses the Force to throw them out the window of his fortress.
Participants
Outcome
Sith Victory
Casualties
Nightsisters
Sith Lords
Appearances
Ad blocker interference detected!
Wikia is a free-to-use site that makes money from advertising. We have a modified experience for viewers using ad blockers

Wikia is not accessible if you've made further modifications. Remove the custom ad blocker rule(s) and the page will load as expected.