Thissa one big mess!

This article is marked as requiring cleanup to a higher standard of quality. You can help The Clone Wars by adding and/or cleaning up and reformatting this page.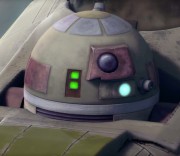 "Let's go home, R6"
―Kit Fisto
R6-H5 was General Kit Fisto's astromech droid. He participated in finding Nute Gunray, who was traced to the Vassek system to General Grievous's lair. R6 was also a loyal droid to Kit and very dependable. He informed them of Soulless One so that the Jedi could know of his arrival. After Fisto fought with Grievous, he ordered R6 to meet him at the nearest landing platform to pick him up. After Nahdar's shuttle was destroyed, R6 had to avoid the MagnaGuards trying to grab onto Fisto's starfighter. Master Kit Fisto barely escaped General Grievous and got into his starfighter just in time. R6 again served Fisto during the rescue on Lola Sayu, along with Adi Gallia and Saesee Tiin.
Appearances