The
Republic Judiciary Central Detention Center
was a Republic prison that was known to house many enemies of the Republic located in
Coruscant
. It was kept in order by
Commander Fox
and the
Coruscant Guard
, who acted as prison guards. Records of prisoners were kept and guards were at watch at all times to limit the chances of escape. All cell blocks were ray shielded so that even armed prisoners would not be able to escape.
Structure
The detention center was divided into many sections. It contained a cafeteria as well as a crematorium, where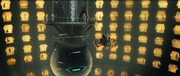 prisoners who died were sent. Notably,
Obi-Wan Kenobi
disguised as
Rako Hardeen
,
Cad Bane
, and
Moralo Eval
attempted to use the cremation facilities to escape.
Notable prisoners
Ad blocker interference detected!
Wikia is a free-to-use site that makes money from advertising. We have a modified experience for viewers using ad blockers

Wikia is not accessible if you've made further modifications. Remove the custom ad blocker rule(s) and the page will load as expected.