More to add, have you?

It is requested that this article/section of an article be expanded. Once the article contains more information, this template will be removed.
This article/section of the article contains information that was not presented in the Clone Wars television series. Content consists of only Clone Wars related media and is, therefore, considered part of the Star Wars Legends continuity.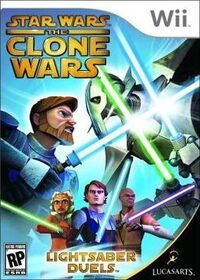 Star Wars: The Clone Wars: Lightsaber Duels
is a Wii video game based on Star Wars: The Clone Wars. The game was released on November 11, 2008.
Plot Summary
The events of the game's "Campaign Mode" take place during the film and select episodes from the first season of the television series, specifically "Duel of the Droids", "Cloak of Darkness", "Shadow of Malevolence", and "Destroy Malevolence" (in that order), finishing with a scenario original to the game.
Playable Characters
Ad blocker interference detected!
Wikia is a free-to-use site that makes money from advertising. We have a modified experience for viewers using ad blockers

Wikia is not accessible if you've made further modifications. Remove the custom ad blocker rule(s) and the page will load as expected.