Home
Talk

13
1,608pages on
this wiki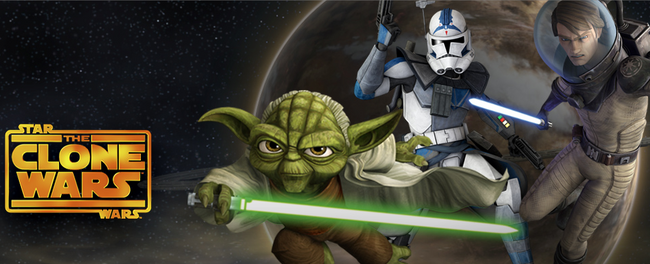 Featured media
Season 6 Trailer
"Voices" Preview
Star Wars: The Clone Wars News
All episodes of The Clone Wars, including the thirteen highly-anticipated episodes of Season Six, are available now on Netflix.
About
The Clone Wars wiki is a database for all things related to the 2003 and 2008 Star Wars: The Clone Wars television series. We are a fan-based community and anybody can edit our articles, however please remember to follow our policies to ensure a neat and informative website. We also encourage editors to create a registered account so that you will be easier to contact and identify. If you have any questions, concerns, or suggestions please contact an administrator. Also check out our discussion boards regarding everything on the Wiki. Please note that Star Wars: The Clone Wars and all content related to Star Wars: The Clone Wars is under the copyright of Lucasfilm Ltd.
To write a new article, just enter the article title in the box below, even just a stub counts.
Please check out our policies and guidelines before you edit
Also check out
Poll
Anyone can vote
What are you looking forward to the most about Season Six?
Anyone can vote
Which episode arc in Star Wars: The Clone Wars Season Five do you like the most?
Blogs and News
Create blog post
Blogs
Attention fans of all fanfiction. It has come my attention that SOPA has returned and once again we are threatened to have our rights on this site and others taken away. Imagine a world where we can't openly express our feelings about copyrighted works through fanfiction, fanart, or even discussion…

Read more >

Hello everybody! As you all know, season 6 of The Clone Wars is coming tomarrow to netflix! I'm going to have a big marathan tomarrow! I have been enjoying the clone wars ever since the movie in 2008, and here we are in 2014 getting the final 13 episodes of the best animated star wars series ever. …

Read more >

So an official Season Six trailer came out, and it is awesome. Not the best, but still awesome. Here's what I noticed:

First, Qui-Gon speaking to Yoda. Not impressive, since we've already seen his ghost on the show, but it was cool seeing the other Jedi gathering around Yoda to hear his voice. Howev…

Read more >
See more >
Affiliates
The list below shows the affiliates of The Clone Wars Wiki.
Official
Unofficial