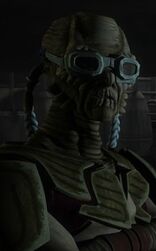 Weequays were a humanoid species native to the planet Sriluur in the Outer Rim near Hutt Space. The Weequay homeworld was an arid desert and as such this species were adapted to that environment, developing thick, rough, tanned skin. Visually members of this species had sunken eyes and no lips. Many Weequay chose to braid their hair in long strands. Weequays were seen on many planets. During the Clone Wars, a pirate gang of Weequays led by Hondo Ohnaka were based on the planet Florrum.
Notable Weequays
Ad blocker interference detected!
Wikia is a free-to-use site that makes money from advertising. We have a modified experience for viewers using ad blockers

Wikia is not accessible if you've made further modifications. Remove the custom ad blocker rule(s) and the page will load as expected.